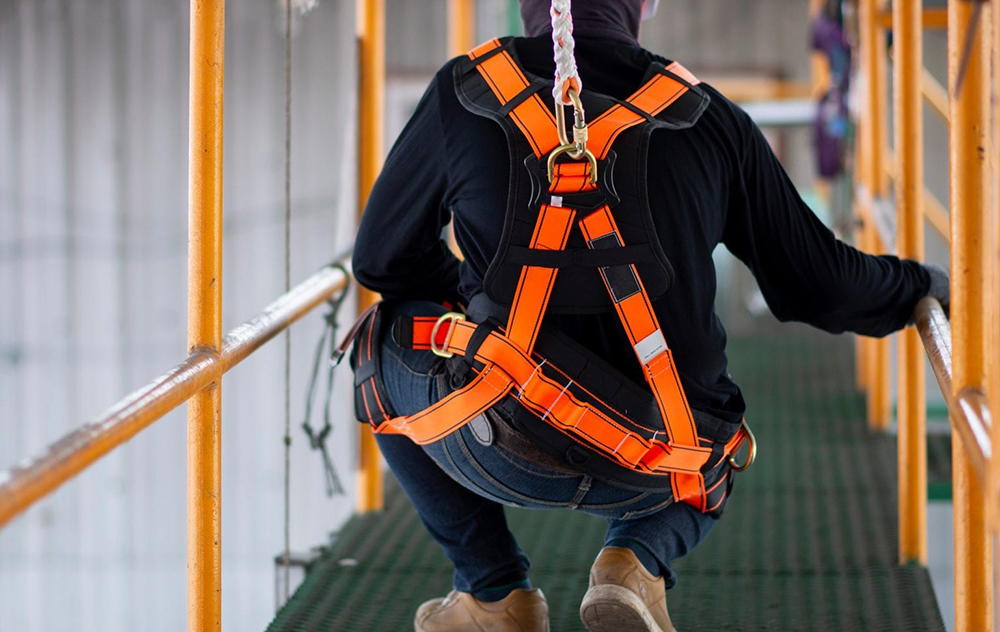 Fall Protection Toronto
The Forklift Training Toronto offers Fall Protection Training Program that includes both a theory and hands-on segment. Fall protection is required where workers are intended to work at heights. This course provides workers with the required knowledge to safely work at heights and prevent fall-related accidents. Participants will be instructed on how to correctly select, inspect, and maintain a wide variety of fall protection components.
We have arranged a module that will cover the prevention of injuries and fatalities. We will educate on which fall protection technique to follow during different fall incidents. Course duration varies from a few hours to a few days depending upon your learning abilities. You need to secure 75% to get certified in our training course. To enroll please call today.
What will be covered in the course content?
1. An Introduction to Fall Protection
You will be introduced to the learning objectives and including the reasons for fall protection, differences between national, provincial, and territorial jurisdictions, roles and responsibilities, and reporting hazards.
2. Hazards Of Working At Heights
Find out about the hazards associated with working at heights and how to determine if you are in danger of falling.
3. Eliminating or Controlling Fall Hazards
This chapter discusses the use of fall protection plans, safe work plans, and hazard controls.
4. Ladder Safety
You will be taught about ladder risks, advantages, standards, types, and scenarios. This chapter includes care, inspection, and use of different types of ladders.
5. Anchors
Canadian fall protection standards for anchors and components including the types and uses of load requirements.
6. Lanyards
How to inspect, clean, use and store the equipment lanyards is also included in the course. Several types of lanyards can be used: Shock Absorbing Lanyards; Web Lanyards; Synthetic Rope Lanyards; Wire Rope Lanyards.
7. Lifelines
How lifelines are used in fall protection systems are also taught in this course. The topics covered are lifelines design, horizontal, and vertical, as well as cleaning, storage, inspection, and braking tests.
8. Additional Connectors
You will learn all about D-Rings, O-rings, oval rings, and snap hooks connectors as well as how to inspect them for damage, including energy absorbers and fall arrestors.
9. Equipment – Harnesses
The use of safety belts and full-body harnesses, including the types A/D/E/L/P. Learn how to inspect your harness's webbing, stitching, and hardware.
10. Fall Protect Calculations
This chapter will discuss the limitations of PPE and how to calculate the free fall distance and minimum clearance.
11. Choosing a Fall Protection System
The different types of fall protection systems and their purpose, are guardrail systems and travel restraints, fall restricting and safety net systems, and fall arrest systems.
12. Emergencies and Rescue Planning
Learn more about rescue and fall protection. This chapter covers the components of an emergency rescue plan. It also discusses common injuries and incidents that can occur when working at heights
Fall Protection Toronto Training
The OHS Act provides training and evaluation courses in Fall Protection for individuals who work at heights greater than 3m (10 feet). It is necessary to provide workplace-specific hands-on practice in emergency response procedures training to all employees. It should also include inspecting, fitting, adjusting, and connecting fall protection systems
What do you need to know?
Employees will be trained in Fall Protection. Then, they will learn how to reduce the chance of injury by using personal protective equipment and fall protector systems. Students are also taught about contingency plans for any fall-related injury. We offer the best fall protection training in Toronto. Contact us today to start your training.
How long is the certificate valid?
Regular completion of the course helps ensure that safety standards are met and reduces the chance of accidents. The standard expiration date for the course is three years. Contact us today to renew your fall protection licence in Toronto.
Who needs Fall Arrest Training?
Workers who must work at heights greater than 10 feet must obtain a Fall Protection certificate Toronto. To increase their chances of being hired, many job applicants complete the certification before the interview. Current employees should continue to undergo Fall Arrest Training in Toronto to ensure their safety at work.
Ontario workers should be aware that contractors and any work related to construction require the "Working at Heights (WAH), regional certification, rather than the online course. Employees in Newfoundland and Labrador must complete a 2-day Workplace-approved, "hands-on" training program.
Looking for equipment-specific forklift training?
Check out our available forklift training courses and call us if you need any assistance related to the provided courses.