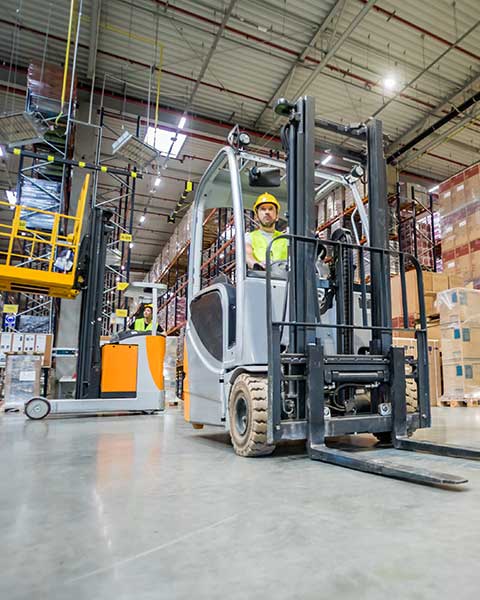 Narrow Aisle/ Reach Lift
This program is designed for new operators having minimal or no experience driving a forklift, and /or seeking to upgrade their skills with hands-on experience with our forklift equipment. You will be provided proper training so that you have the skills necessary to be a competent and safe operator.
At Forklift Training Toronto, all the components and requirements you need to get started on your career as a Forklift Operator are included. Our programs are comprehensive and designed specifically in accordance with the learner's safety and success in mind. Every training program entails:
You will learn about:
The legislative requirements (Government Regulations, CSA Standards and Manufacturers' Guidelines and Principles;

The duties and responsibilities of workplace stakeholders;

Pre-shift inspections;

Safe operating and load handling procedures;

Pedestrian safety and the proper use of hand signals;

Propane and battery handling techniques.

The capability to conduct a pre-shift inspection;

Forklift safe starting procedures;

Lifting a load with a forklift;

Travelling with and placing a load with a forklift;

Parking and immobilizing a counterbalance forklift device.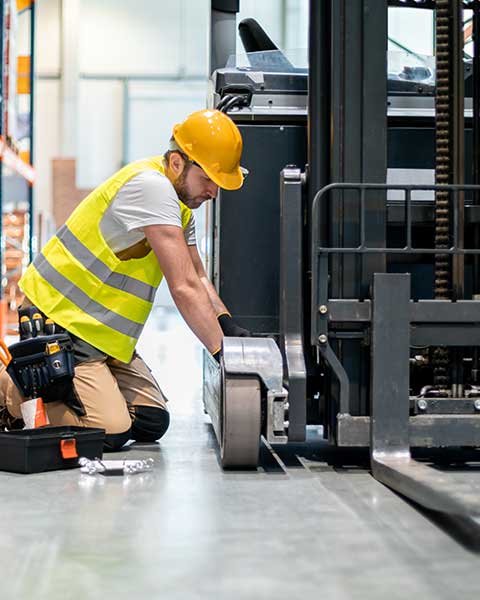 Raymond Reach Training in Toronto
Are you interested in becoming a skilled forklift operator and maximizing your career opportunities? Look no further than Raymond Reach Training. Obtaining a Raymond Reach License is a valuable investment that can open doors to a wide range of job prospects in the material handling industry. This comprehensive training program equips you with the necessary knowledge and skills to operate a Raymond Reach forklift safely and efficiently.
If you're located in Toronto you're fortunate to have access to quality Raymond Reach Training right in your city. Toronto offers a thriving industrial sector with numerous warehouses and distribution centres that rely heavily on forklift operators. By enrolling in Raymond Reach Training in Toronto, you can take advantage of specialized courses tailored to the unique requirements of the local job market. These programs focus on
honing your skills to meet the demands of forklift operation in Toronto's industrial landscape.
The Importance of Narrow Aisle Reach Lift Training
Operating narrow aisle reach lifts requires specialized skills and knowledge due to the unique challenges associated with manoeuvring in tight spaces. Narrow aisles demand precision, control, and an acute awareness of the surroundings to ensure the safety of both the operator and other workers in the vicinity. By receiving dedicated training for narrow aisle reach lifts, you will gain the expertise needed to navigate these confined spaces effectively. Raymond Reach Training will focus on essential aspects such as load handling, stability, turning, and hazard recognition specific to narrow aisle environments.
Training Curriculum for Raymond Reach Certification
Raymond Reach Training programs cover a comprehensive curriculum designed to equip trainees with the necessary skills and knowledge for safe and proficient operation of reach lifts. The curriculum typically includes:
Forklift fundamentals and safety regulations
Operating procedures and techniques
Load handling and stability principles
Narrow aisle navigation and manoeuvring
Pre-operation inspections and maintenance
Hazard identification and emergency procedures
Workplace-specific scenarios and challenges
Raymond Reach Certification Process and Requirements
To obtain a Raymond Reach License or certification in Toronto, you must fulfill certain requirements and go through a certification process. The specific process may vary depending on the training provider, but it involves:
Completion of a Raymond Reach Training program.

Demonstrating proficiency in operating a Raymond Reach forklift

Passing a written exam that tests your knowledge of forklift operation

and safety

Successfully completing a practical evaluation, which assesses your

ability to operate the forklift safely and effectively in various scenarios.

Upon fulfilling these requirements, you will receive a Raymond Reach

License or certification, validating your competence as a forklift

operator.
Training Benefits and Advantages
1. Investing in Raymond Reach Training offers numerous benefits for both individuals and employers. For individuals, completing the training and obtaining a license enhances job prospects and employ-ability. Many employers in the material handling industry prefer or require applicants to have formal forklift training and certification.
2. Moreover, Raymond Reach Training prioritizes safety. By undergoing this specialized training, you develop a strong understanding of safety regulations, hazard identification, and emergency procedures.
3. Another advantage of Raymond Reach Training is the opportunity to improve efficiency and productivity. The training program covers essential operational techniques, load handling, and narrow aisle navigation, enabling you to maneuver the reach lift with precision and confidence. By optimizing your skills, you can complete tasks more efficiently, reducing downtime, and maximizing productivity in warehouse operations.
4. Furthermore, Raymond Reach Training Mississauga ensures compliance with regulations and insurance requirements. Many regulatory bodies and insurance companies require forklift operators to have proper training and certification.
5. Lastly, Raymond Reach Training provides a solid foundation for career growth and advancement within the material handling industry. As you gain experience and proficiency, you may qualify for more specialized
roles.
Raymond Reach Training is a crucial step toward becoming a competent and skilled forklift operator. Whether you are in Toronto, accessing this training offers you a distinct advantage in the competitive job market. By obtaining a Raymond Reach License, you demonstrate your expertise in operating reach lifts and navigating narrow aisles, while prioritizing safety, efficiency, and compliance. Invest in your career today by enrolling in Raymond Reach Training and unlock a world of opportunities in the material handling industry.
Looking for equipment-specific forklift training?
Check out our available forklift training courses and call us if you need any assistance related to the provided courses.